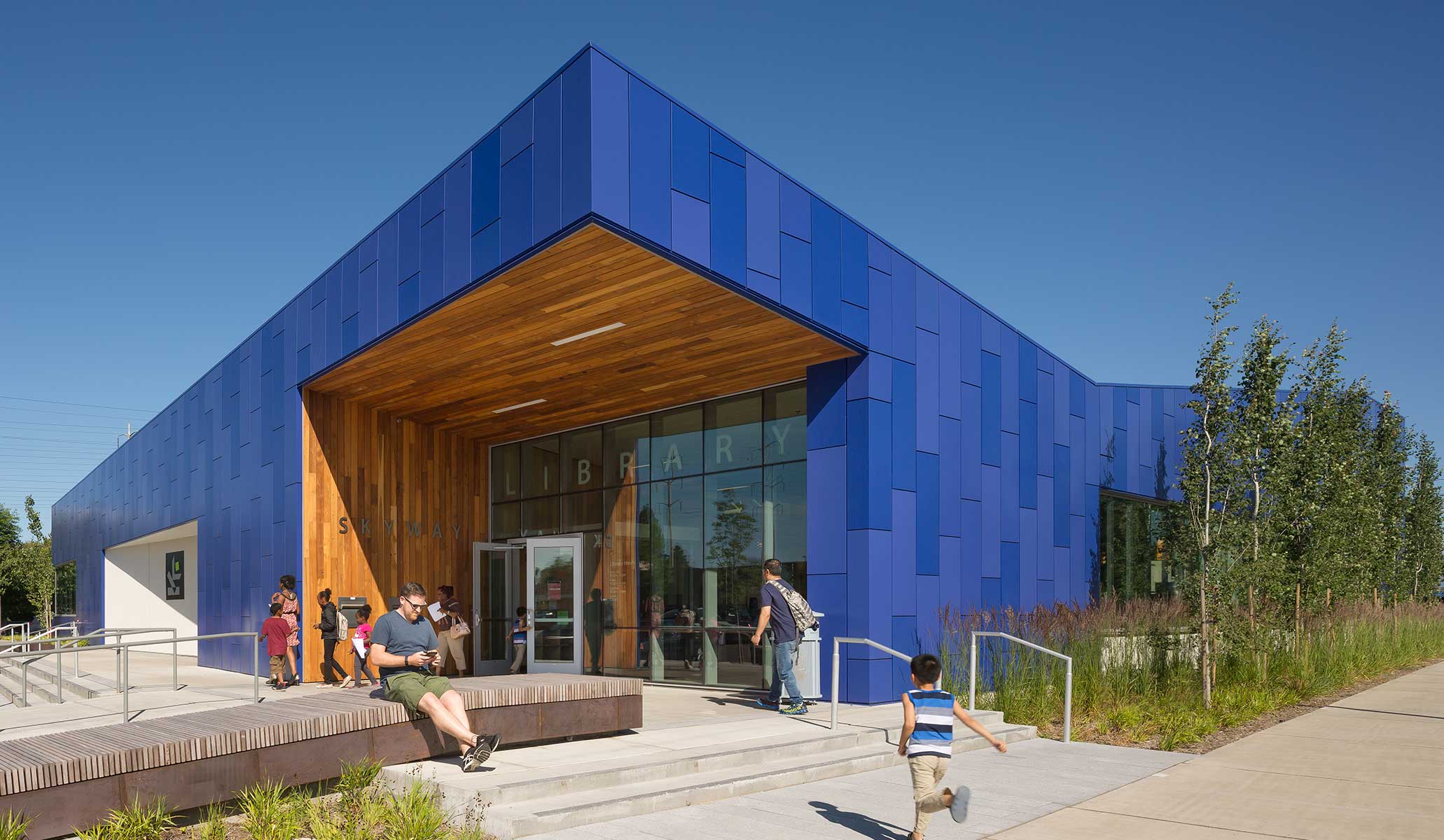 Skyway Library
oriented toward the pedestrian thoroughfare, the library's dynamic building form is lifted and carved away to create a front porch that welcomes passers-by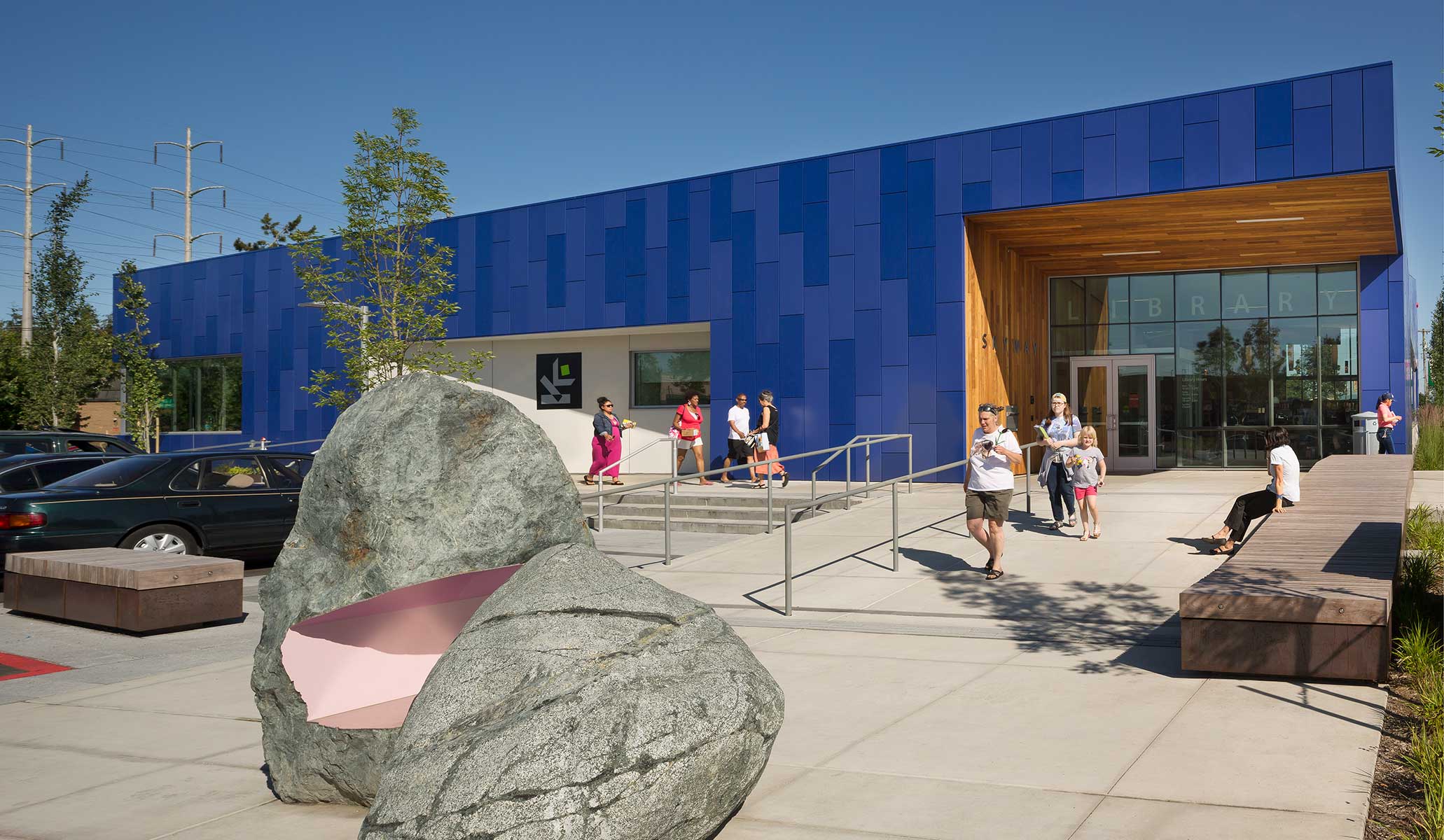 Skyway Library
"Skystones," an art installation, by Jenny Heishman, combines mass, void, and reflection to anchor Skyway's new public plaza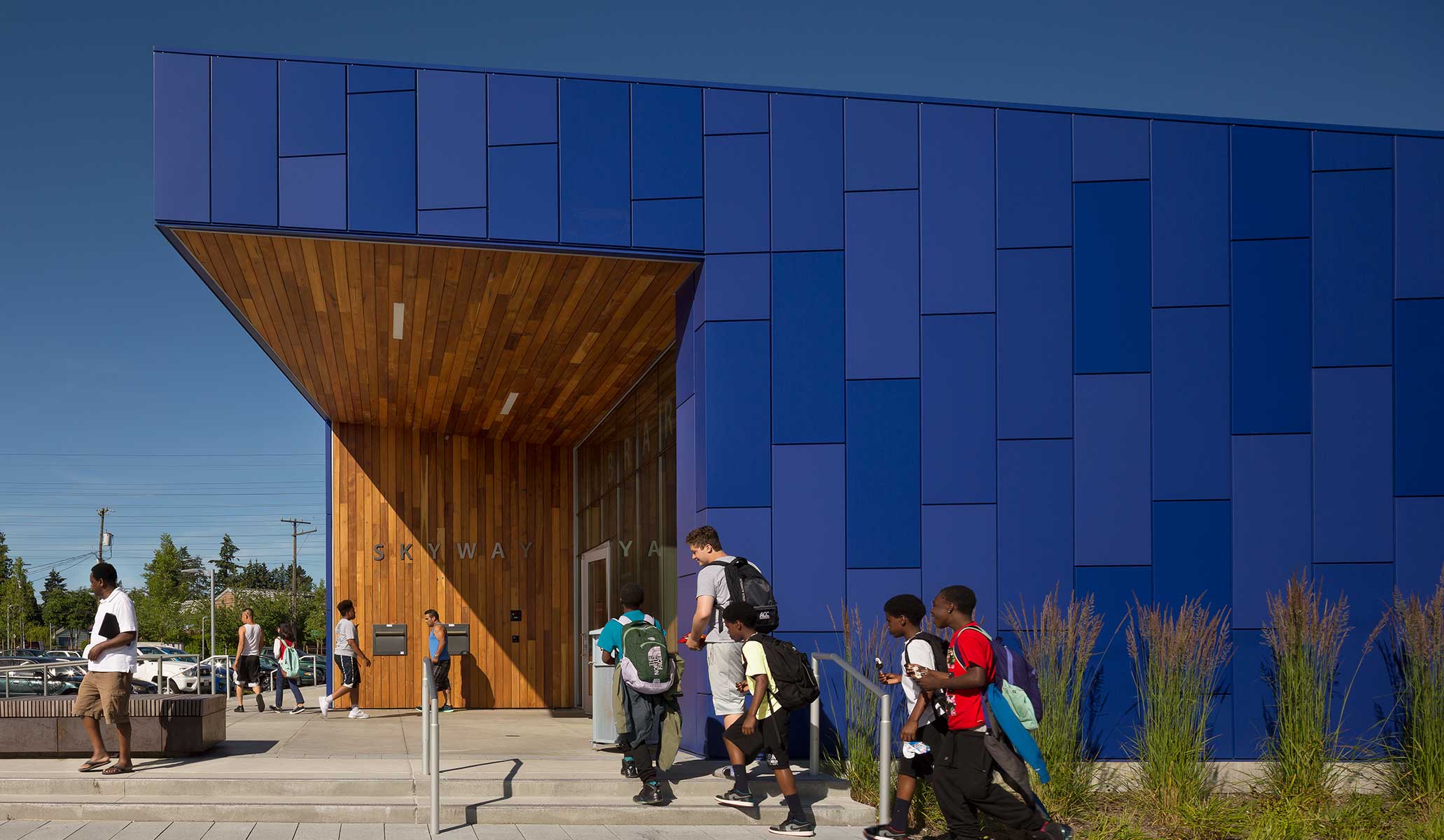 Skyway Library
the color of the library was inspired by the transition of the sky a moment before sunrise and moments after twilight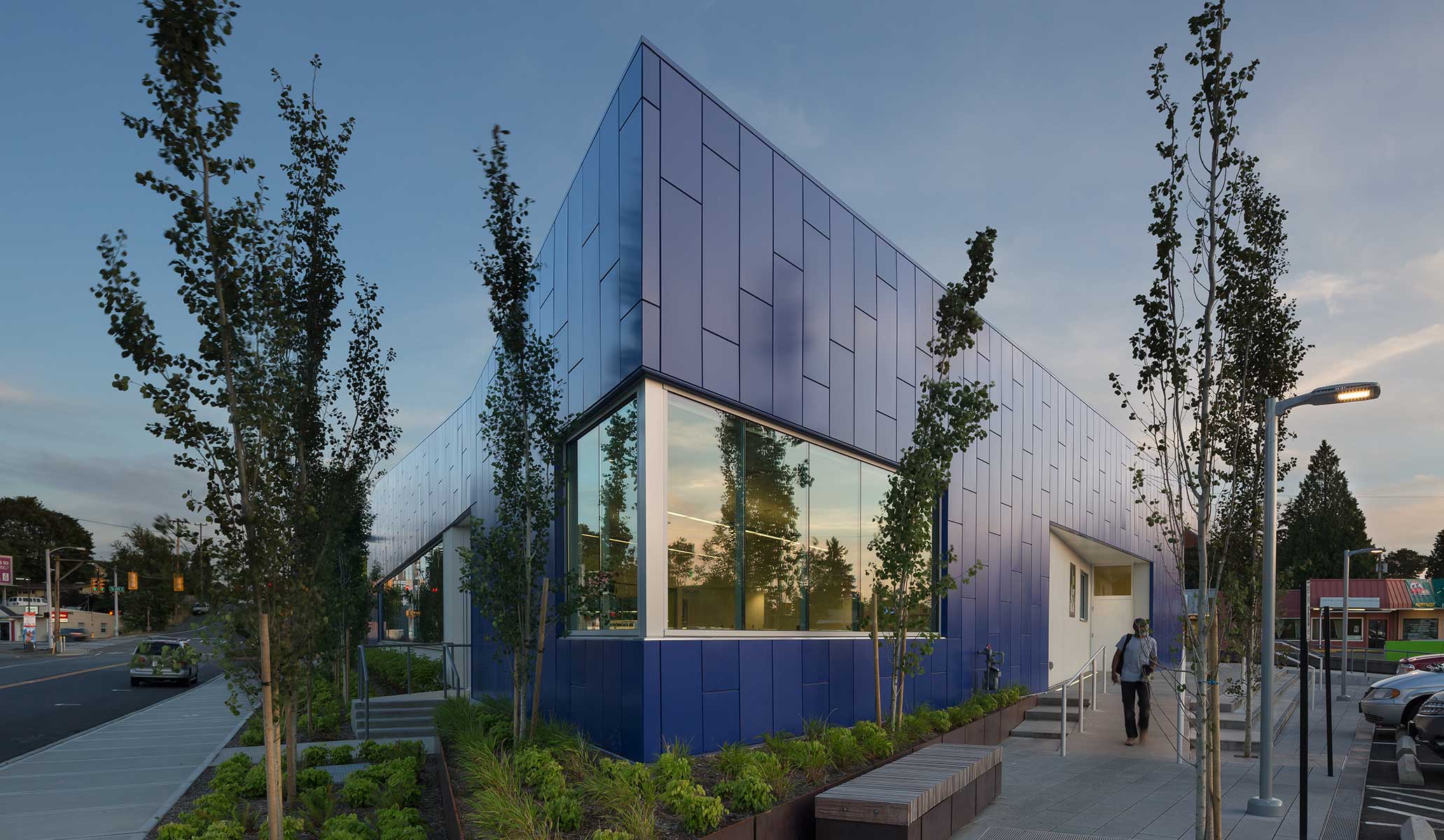 Skyway Library
without a back side to the building, the service entry is tucked away in a niche to avoid competing with the library's public entrance.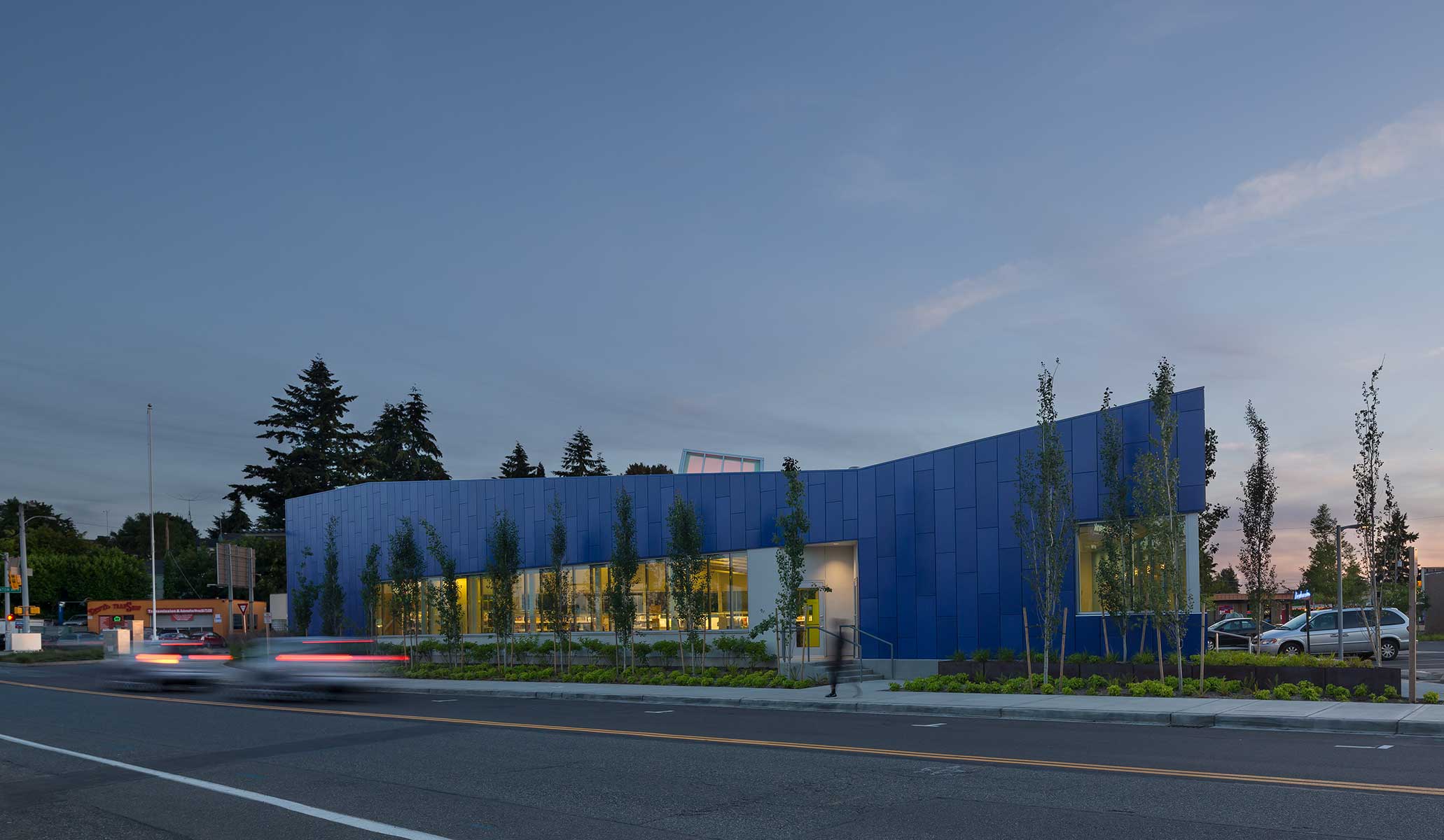 Skyway Library
a large skylight lined with color-changing lights peeks out above the children's reading area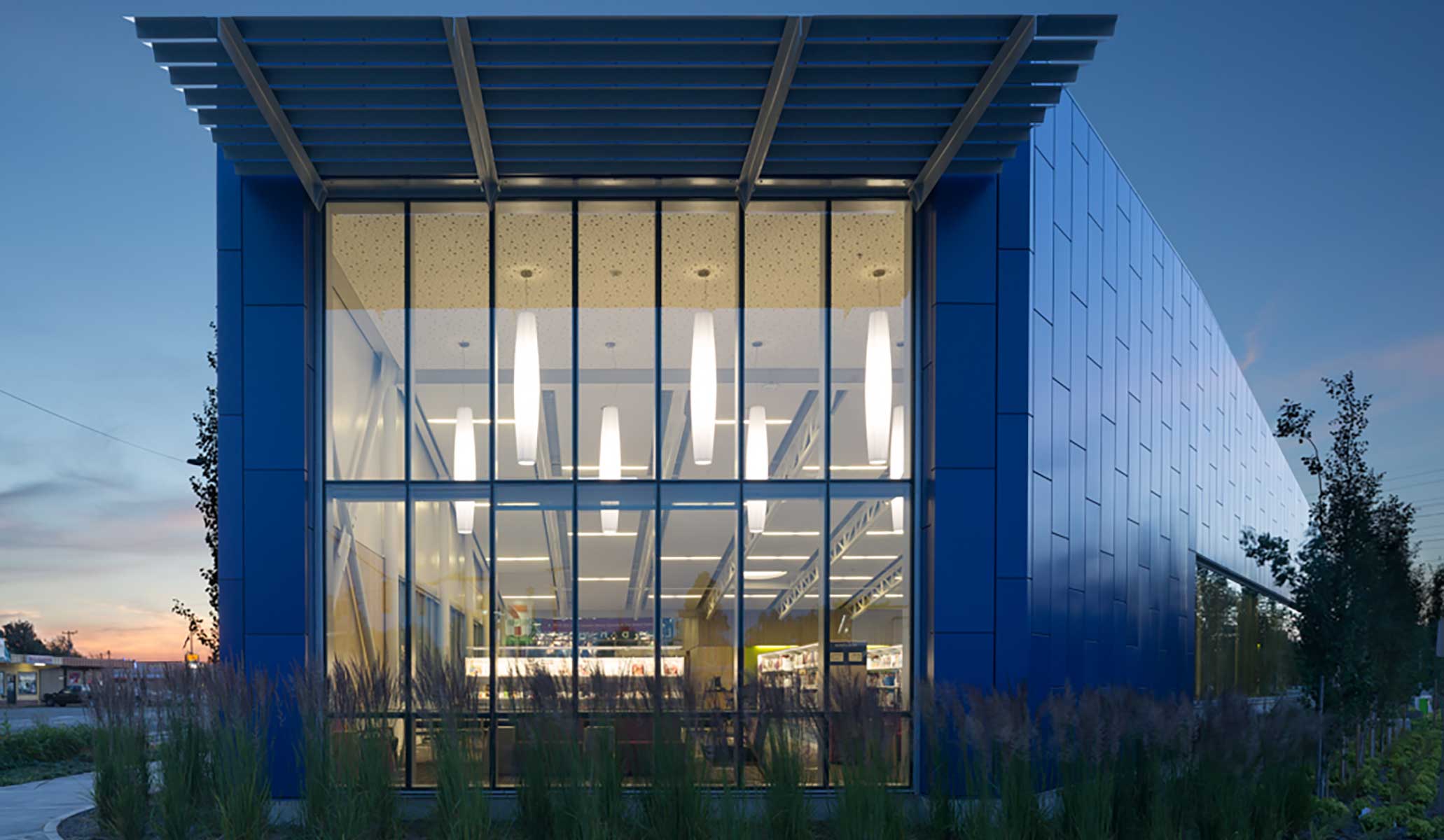 Skyway Library
a 20-foot-high wall of windows offers views into library from Skyway's main crossroads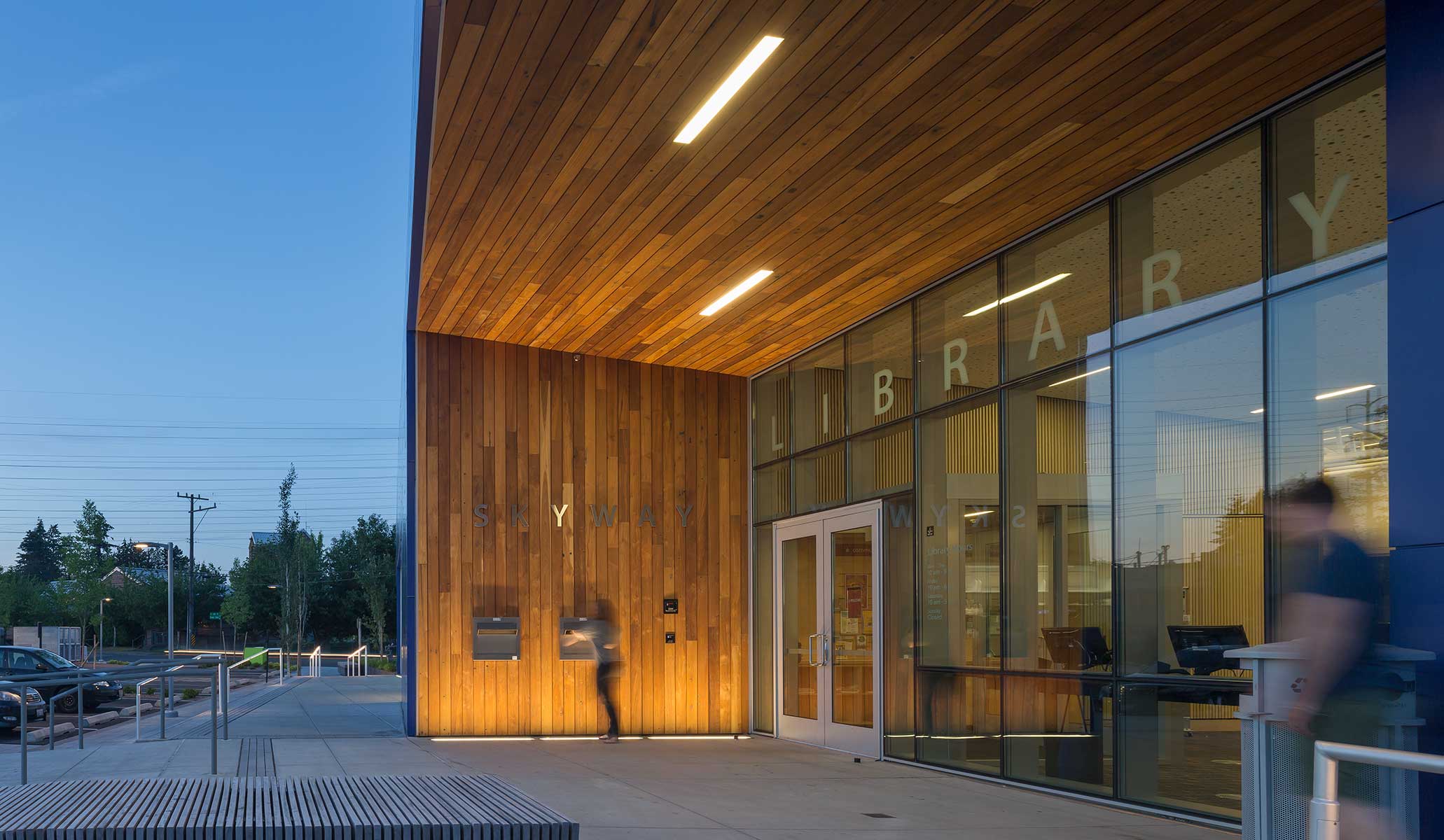 Skyway Library
the front porch of the library is lined with sustainably reclaimed teak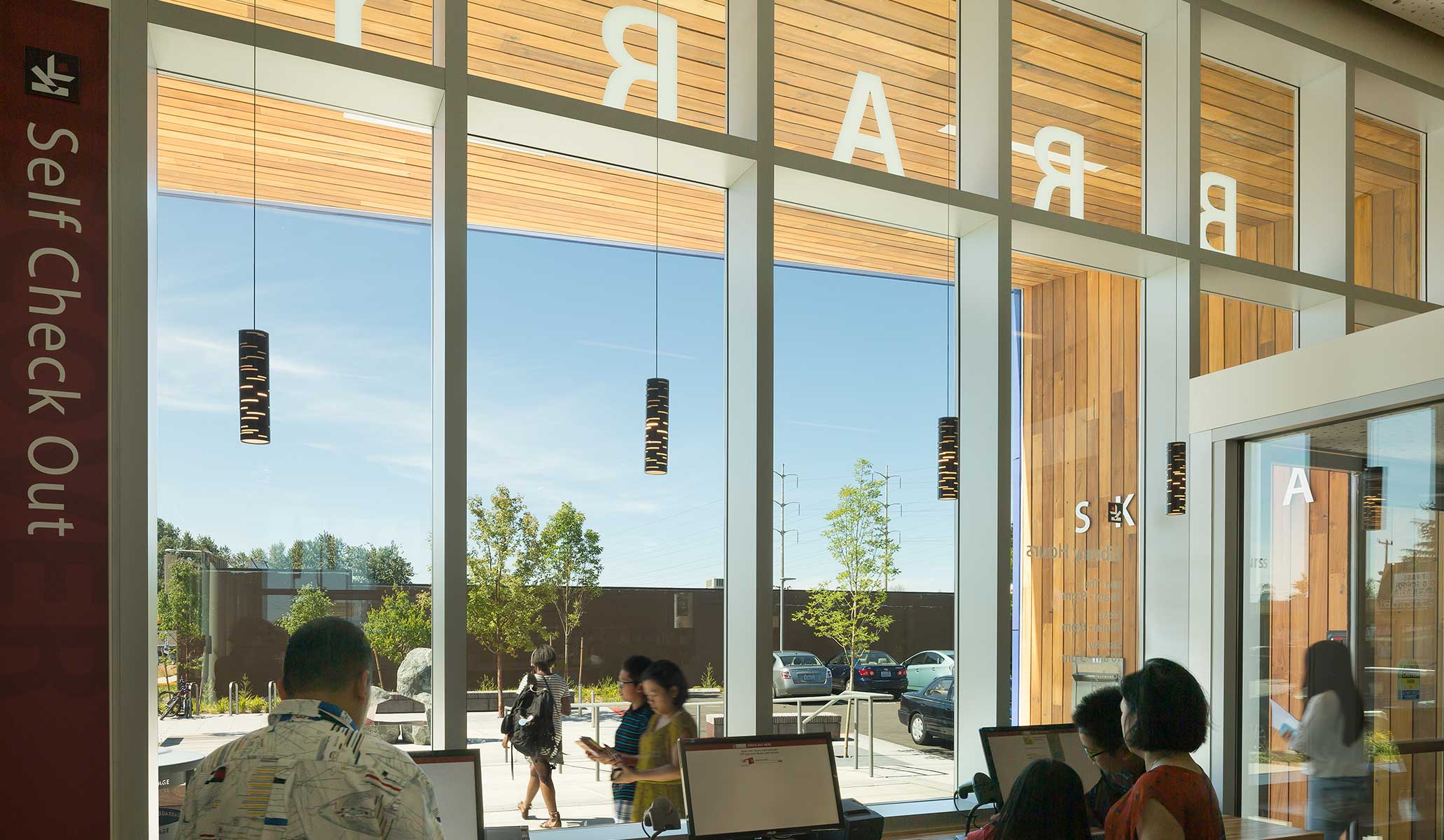 Skyway Library
self-check stations near the library's entry provide views across the new public plaza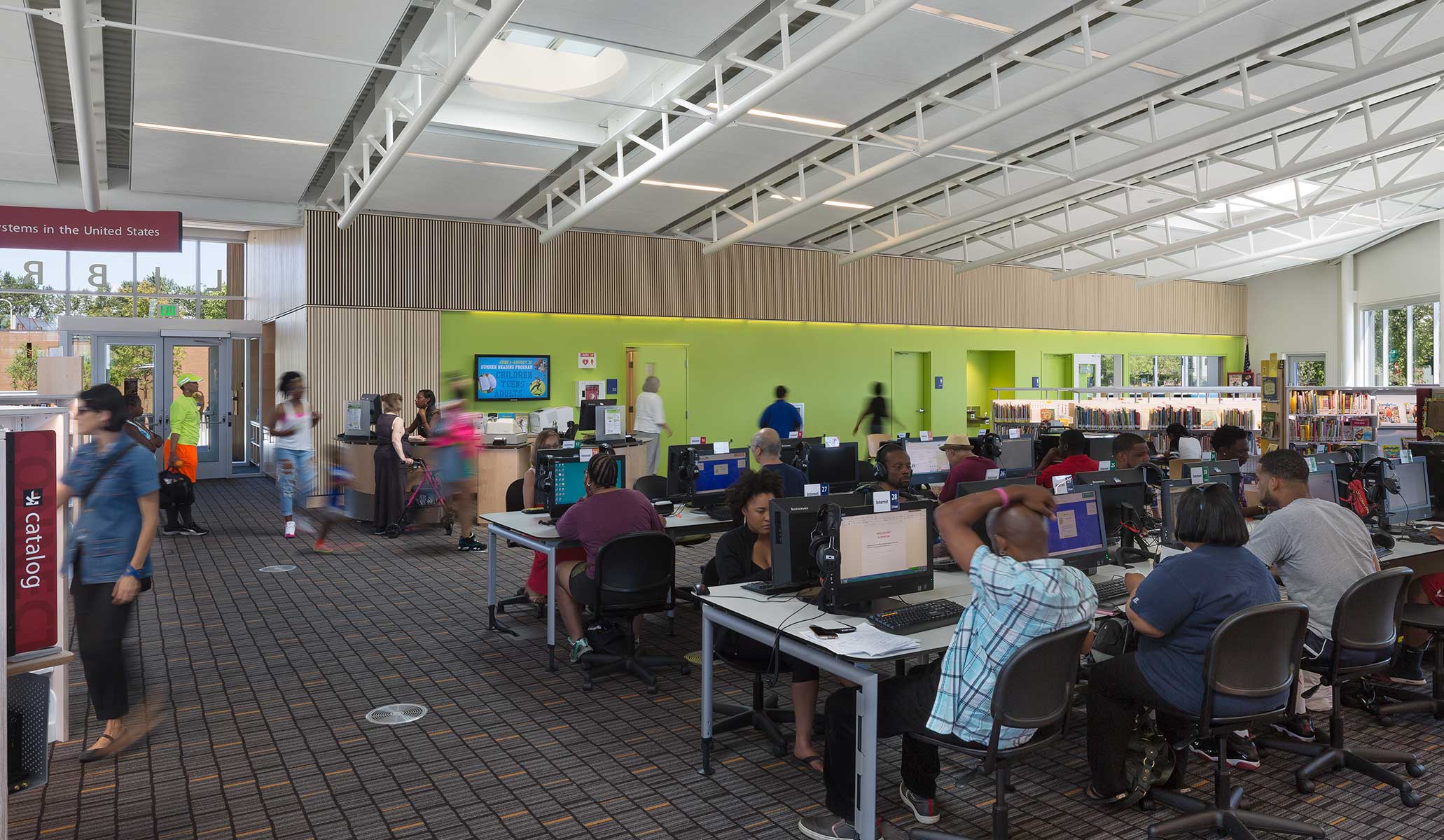 Skyway Library
the vibrant, light-filled, reading room is defined by perimeter bookshelves and a central location for public computers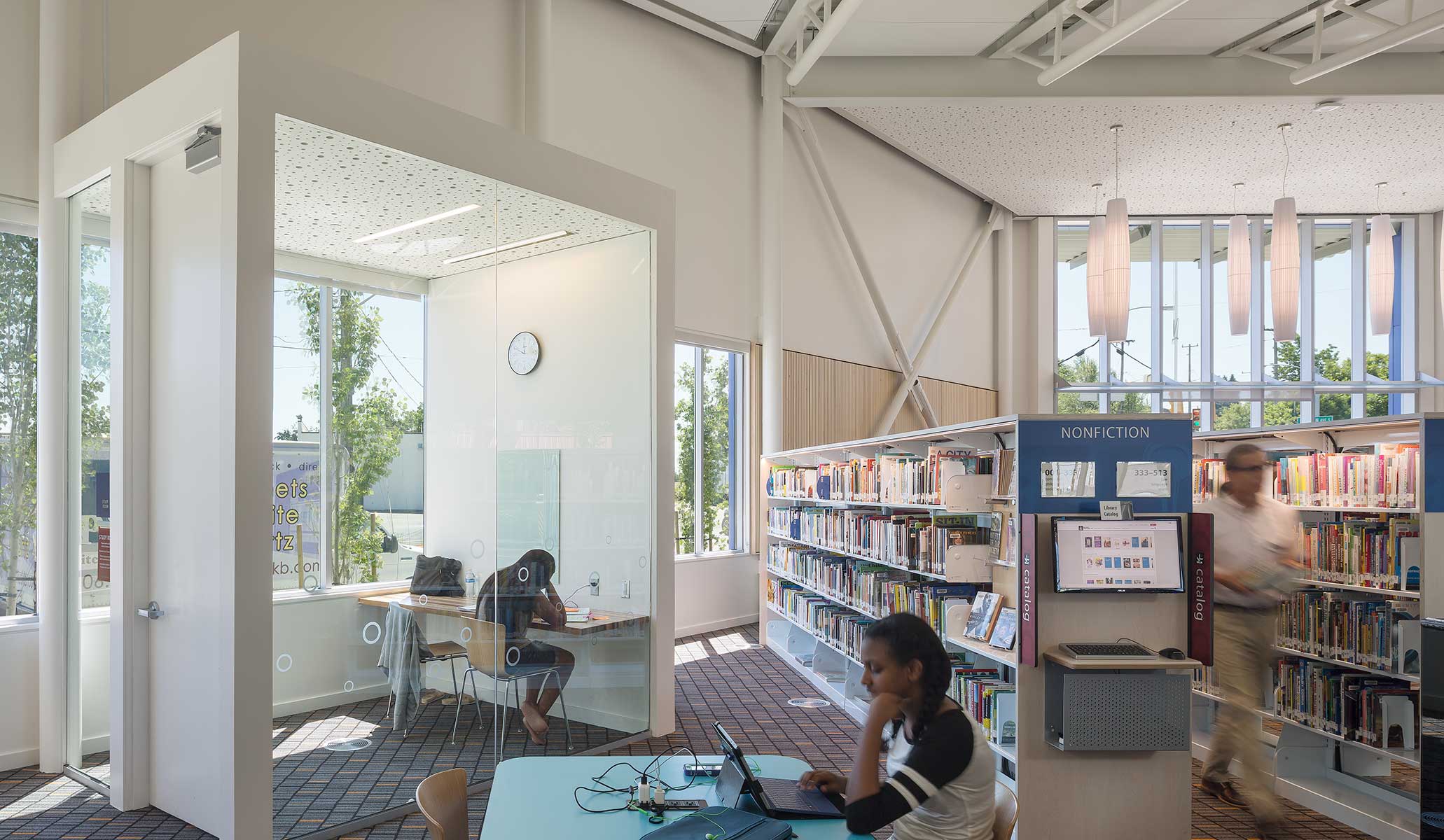 Skyway Library
a quiet study room floats within the central space providing acoustic privacy while retaining light and views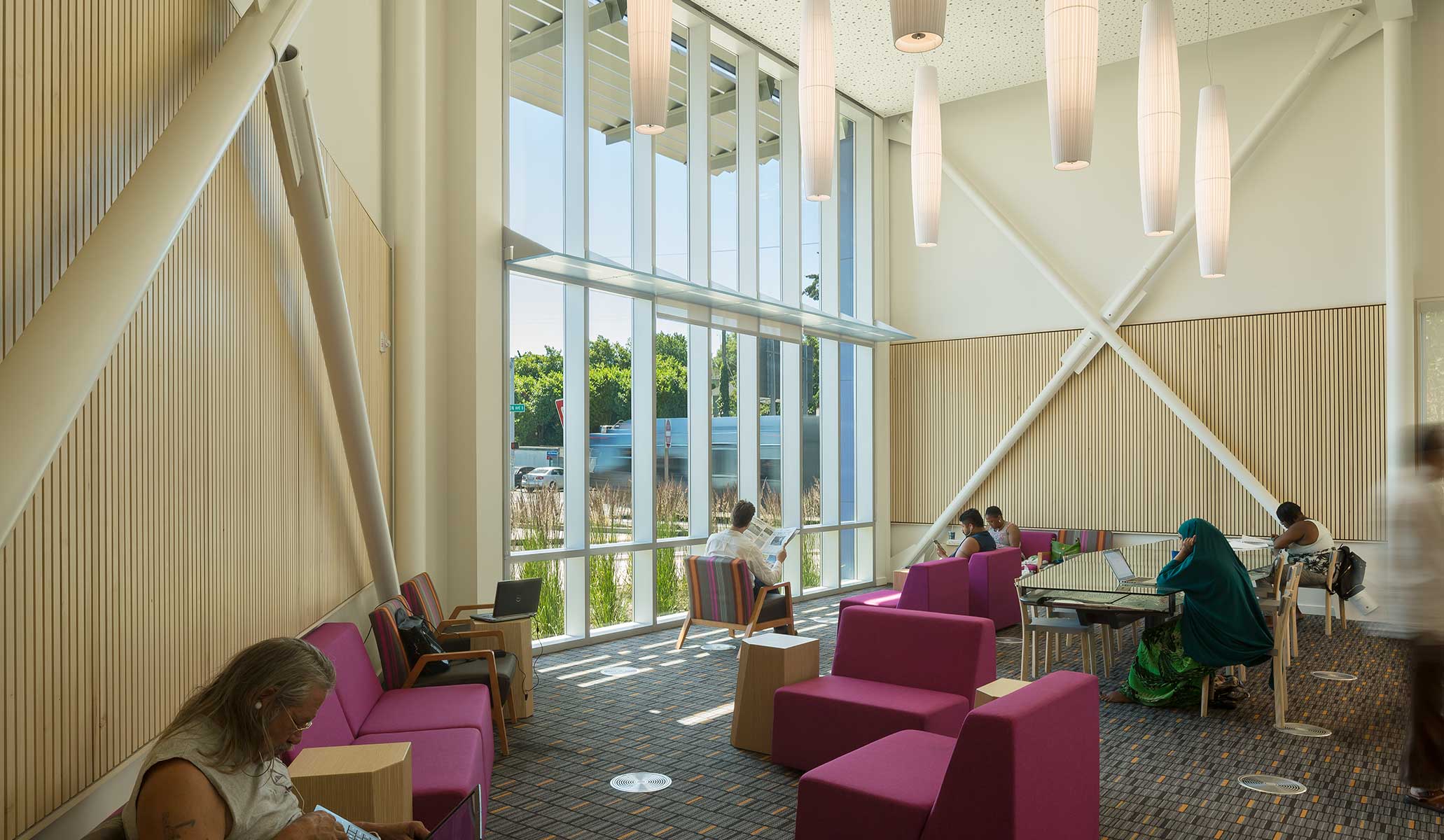 Skyway Library
the library's "living room" features comfortable seating, a community table crafted from the tail wing of a Boeing airplane, and a 20-foot-high glass wall with views to Mount Rainier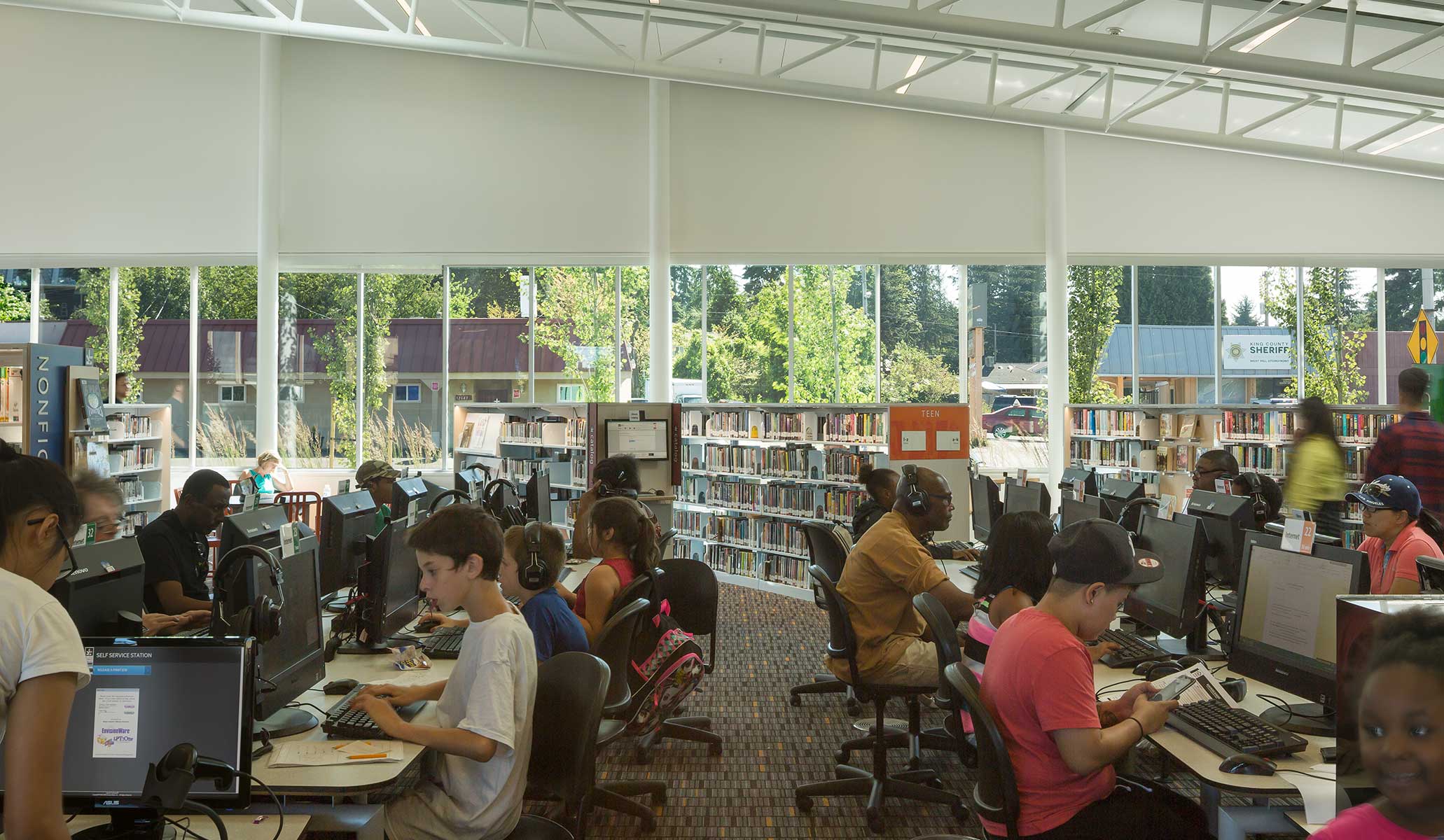 Skyway Library
with high-speed internet access not widely available in this area, the public computers are in constant use by members of the community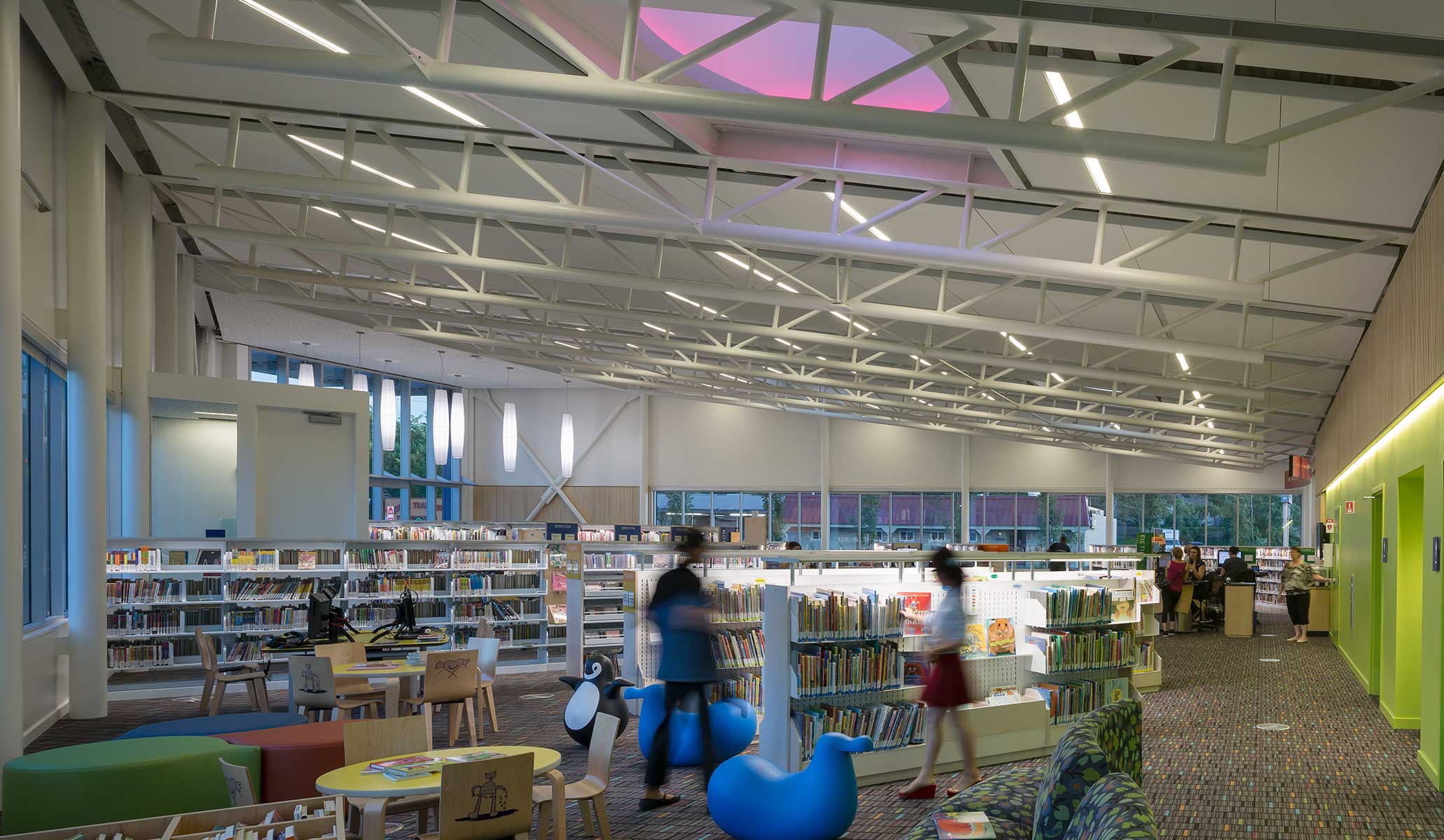 Skyway Library
with open sight lines, the children's area is defined by fun furniture, colorful carpet, specialty shelving, and an oversized skylight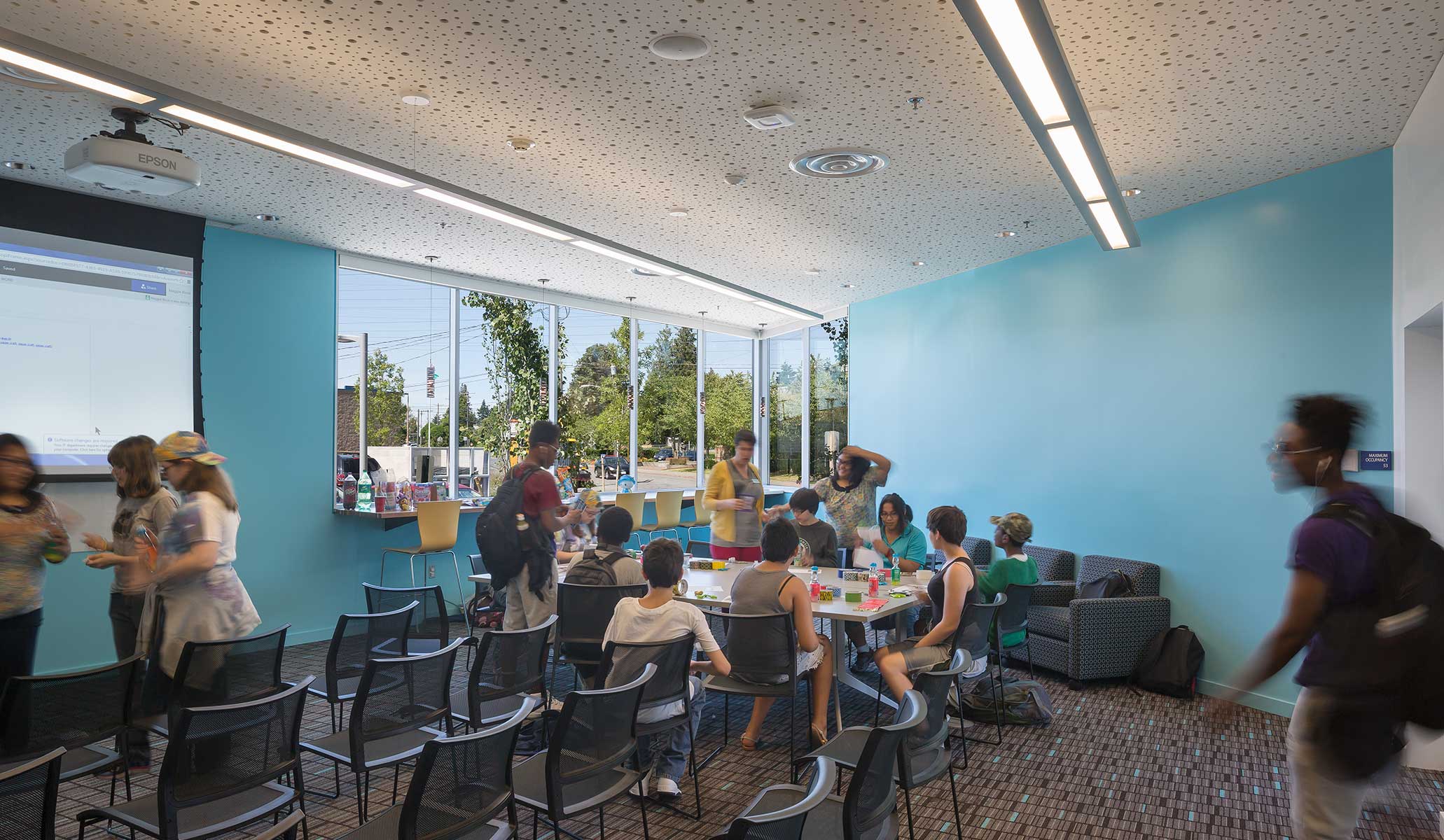 Skyway Library
the meeting room is used by community groups, public events, and in this instance, after-school programs for local teens
Location Skyway, WA
Client King County Library System
Skyway Library
Skyway Library represents the first significant public investment in the Skyway community–an unincorporated, under-served neighborhood–in several decades. The library's sculptural form responds to its triangular site and to the community's desire for an inspiring and dynamic public space. The building features a carefully detailed exterior skin whose three shades of blue resonate with the sky at dusk and dawn.
The reading room is open, flexible and filled with daylight. The public "living room" area offers a communal study table made from a repurposed airplane wing and a 20-foot high window wall through which Mount Rainier is visible. The children's area includes furniture decorated with children's art and a large skylight lined with color-changing LED lights.  A sliding glass wall connects the reading room to a multi-purpose meeting room used for story time and after school programming.
A large public plaza with seating, sculpture and landscaping provides a much-needed civic gathering space used by adults, children and teens, the weekly farmers' market, voter registration drives, and other community events.
A BuildingWork/Weinstein AU project.  Matt Aalfs: Design Principal/ Project Manager; Kate Weiland: Project Architect; photos © Lara Swimmer Photography