expertise
BuildingWork offers experience in programming, feasibility studies, site planning, building evaluation, building renovation, new construction, and interior design. We enthusiastically address the needs of a wide range of project types, whether small or large, straightforward or complex.  
Within this broad range of services, we offer our clients special knowledge and expertise in two specific areas of practice — historic building renovation and civic building design.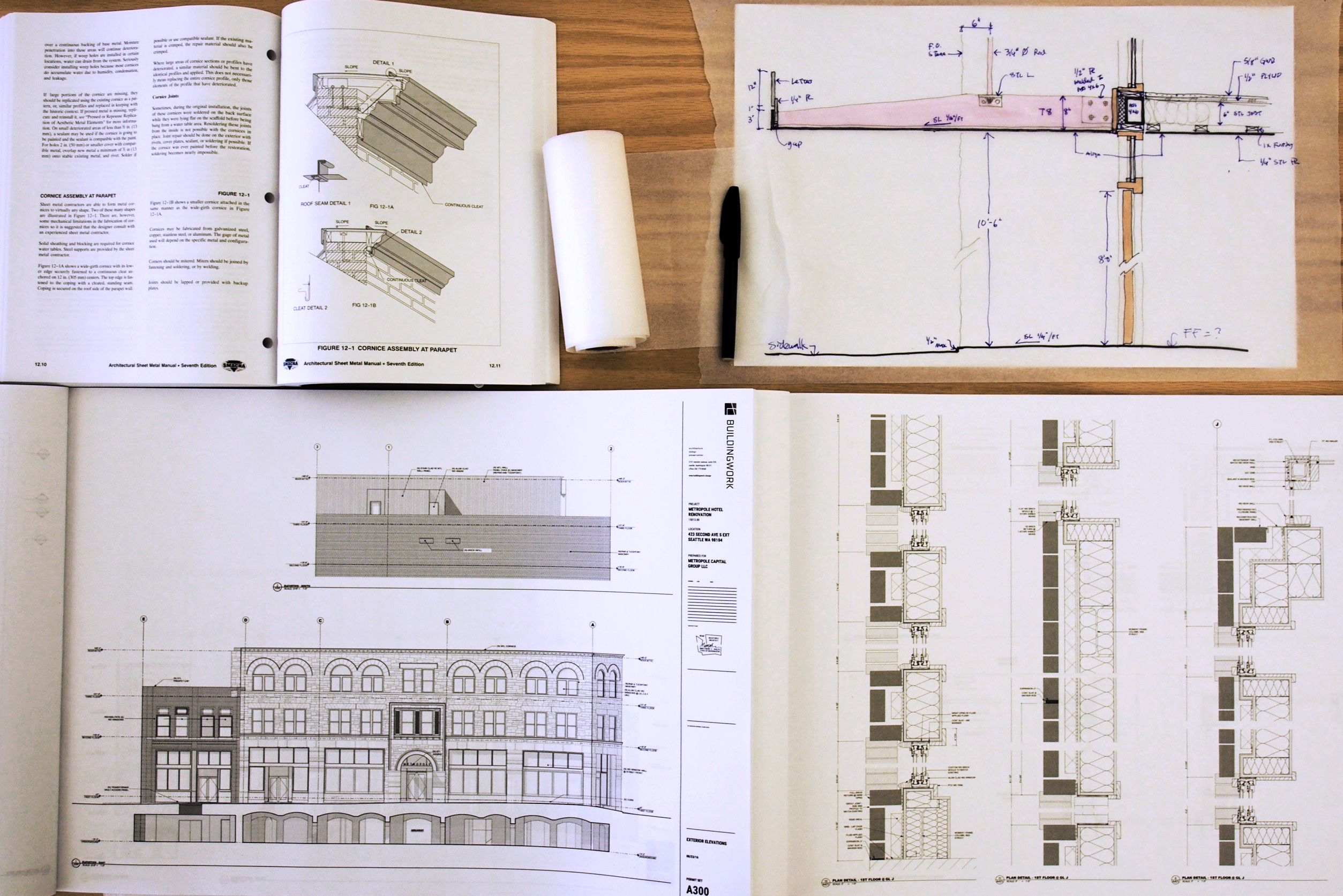 Historic Building Renovation
Landmark Buildings
We have a successful track record of securing Certificates of Approval from the Seattle Landmarks Preservation Board and the Pioneer Square Preservation Board, and we are adept at working smoothly with the Architectural Review Committees of both Boards. We are also experienced with preparing landmark nomination reports and leading the nomination and designation processes.
Federal Historic Tax Credits
We have experience with applications, negotiation, and approvals for Federal Historic Preservation Tax Credits for Certified Rehabilitations. We work collaboratively with the State Historic Architect and the architectural reviewers at the National Parks Service to secure approvals for our clients who choose to pursue the Federal Historic Preservation Tax Credit program.
Code Compliance
We understand the regulatory requirements for Change of Use and Substantial Alteration of existing buildings. We also have expertise in the design of a wide range of energy efficiency improvements and accessibility upgrades for existing buildings.
Seismic Retrofits
We have extensive experience developing creative and cost-effective solutions for seismic retrofits of unreinforced masonry buildings. We develop and evaluate retrofit options based on cost, constructability, and visual impact.
Design Sensitivity
We find creative ways of bringing contemporary and historic elements together. Our designs accommodate the needs and uses of the present while celebrating and preserving the past.
Civic Building Design
Public Engagement Processes
We excel at community outreach for our public projects. We work with our clients to lead public meetings and presentations that produce constructive dialogue between community members, public agencies, and the design team.
Public Agency and Not-For-Profit Clients
We understand that public agencies and not-for-profit institutions have different internal processes than private owners, and we are flexible adaptable in our approach to deliverables, scheduling, and decision-making.
Design Quality
We know how to design community gathering spaces and public use facilities that are long-lasting, functional, cost effective, and beautiful.
Project Management
We are experts at managing information exchange, team communication, and project schedules. We serve our projects with continuous senior-architect involvement from pre-design though construction close-out.
Limited Budgets
We are diligent at designing within a strict project budget, and we work thoroughly during construction administration to minimize change orders and to ensure compliance with contract documents.
Public Bid Procurement
We have a successful track record of leading Design-Bid-Build projects for public agencies. We produce bid documents that are comprehensive, detailed, and clear, and we work effectively with owner's representatives and general contractors.